Experience O Museum in the Mansion with Picnic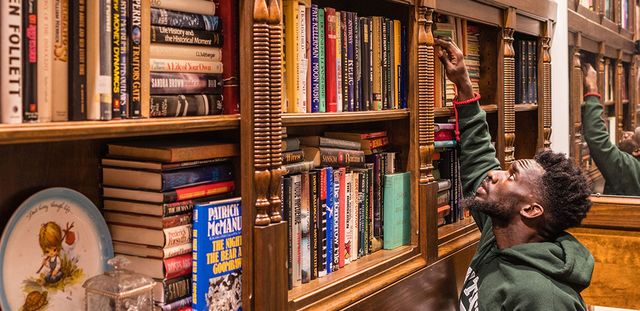 O Museum in The Mansion is a non-profit museum in Dupont Circle and is woman-founded and run.
O Wow
We have over 80 secret doors, immersive-themed rooms, and the most unique collection of artifacts in the country. Here you'll find something for everyone: from a photography exhibit that opened at the "World Peace Festival" to a running shoe worn by Allyson Felix at the Olympics, to Miss USA's Crown, and over 60 signed guitars from music greats like Bono, Bruce Springsteen, and Britney Spears. Our exhibits rotate and our newest is a fashion exhibit that includes an outfit Prince wore on tour, and dresses worn by June Carter Cash and Grammy-winner Emmylou Harris when she was inducted to Grand Ole Oprey .
We are a historic site on the African American Heritage trail. Mrs. Rosa Parks, the Mother of the Civil Rights movement, called The Mansion her home-away-from-home for nearly 10 years as part of our Heroes-in-residence program. You can see her room exactly as it was when she lived here as well as artifacts she gave to the Museum. Mrs. Parks was a mentor to our founder, HH Leonards and has written several books on the impact Mrs. Rosa Parks had on her and the world.
The Mansion is a sanctuary for creatives of all kinds and inspires creativity, diversity and imagination through the fusion of the arts, music, science and sports. We empower people to dare to be different — and achieve things beyond what they know
Visiting the O Museum directly benefits our arts and social justice programs including our artist and heroes in residence programs, 51 Steps to Freedom, Healing through music & storytelling, and arts & literature programs.
This experience is based on availability and close-out dates/times may apply. DISCLAIMER - READ CAREFULLY - Additional terms and conditions may apply. This experience, activity, or event is being offered, sold, and serviced by a third party. While we strive to provide accurate and up-to-date information, Curator Hotel & Resort Collection ('Curator") cannot guarantee the quality or accuracy of goods and services made available by any third party featured on this site. The third-party providers are solely responsible for the accuracy of the information, the quality of services rendered, and any potential liability arising from the activities offered. Information and descriptions are subject to change without notice. The nature of some experiences or activities may require liability waivers or legal releases. All terms and conditions set by the service provider should be reviewed during the final purchase process.