Margaritaville Hollywood Beach Resort
1111 N Ocean Dr, Hollywood, Florida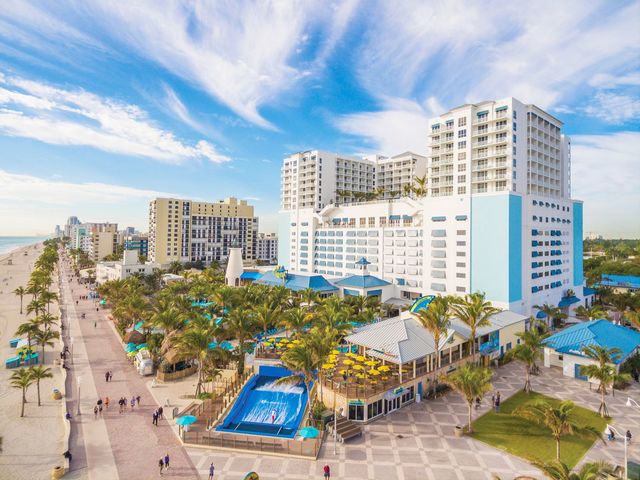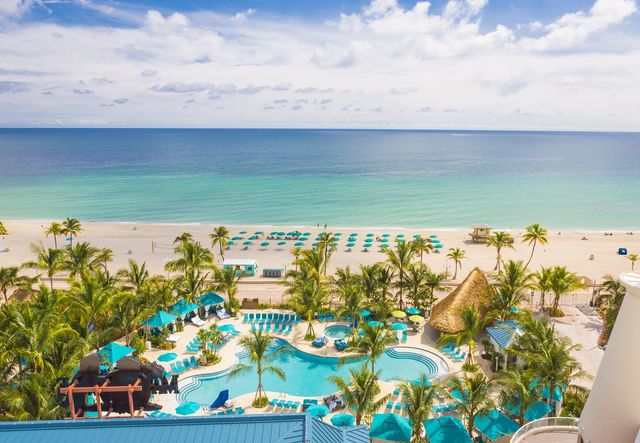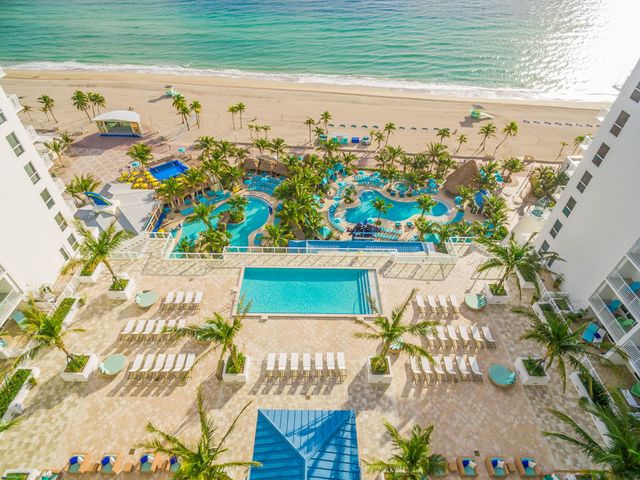 Discover the ultimate "no worries" vacation escape at Margaritaville Hollywood Beach Resort, nestled between the stunning Atlantic Ocean and the picturesque Intracoastal Waterway. Embrace tropical tranquility and endless fun in the sun, where there's something for everyone to enjoy. Step into island-inspired guest rooms and suites with awe-inspiring balcony views, creating the perfect backdrop for a relaxing and delightful stay. Our resort boasts diverse dining experiences, from laid-back beachfront casual to upscale steakhouse elegance. Savor mouthwatering cuisine while taking in the mesmerizing views and soaking in the laid-back ambiance. Every week, we host live entertainment that adds a vibrant and festive touch to your vacation experience, ensuring every moment is filled with joy and excitement. Recreation is at the heart of our resort, offering various activities for guests of all ages. Lounge by the pool or beach, dive into thrilling water sports, or venture out to explore nearby attractions—there's an abundance of options to keep everyone entertained and engaged throughout their stay. For those seeking a pampering retreat, our full-service St. Somewhere Spa is an oasis of relaxation and rejuvenation. Treat yourself to various luxurious treatments and therapies, leaving the worries of everyday life behind and embracing the essence of a true tropical getaway. Margaritaville Hollywood Beach Resort perfectly encapsulates the spirit of paradise, offering an ideal blend of family fun, romance, and celebration. And the best part? No passport required! Experience the essence of the tropics right here in South Florida. Book your unforgettable escape today.
A Davidson Hospitality Group Hotel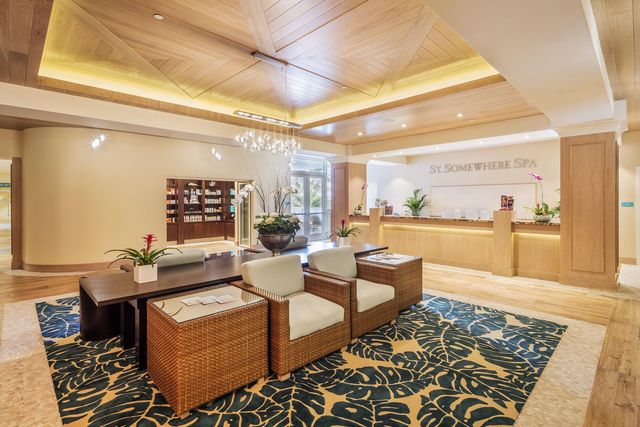 St. Somewhere Spa – Check in and Chill Out
Recognized by US News as one of the Top-30 Relaxing Spa Getaways in the U.S., St. Somewhere Spa was inspired by the serene tropical latitude of South Florida, and invites guests to come in, unwind and be rejuvenated. An inspiring oceanfront retreat, this 11,000 square-foot getaway is the ultimate in relaxation with eleven treatment rooms, along with steam rooms, scrub room, and rainfall showers. After your body is relaxed and renewed, indulge in the finishing touch with facials, hair and nail services.
Pool Paradise
The family-friendly beach level recreation and entertainment scene is a lushly landscaped, island-inspired paradise with two unique pools, waterslide, FlowRider® Double and a variety of lounging options including full-service cabanas and chaise lounges with umbrellas. Outdoor oceanfront dining and refreshing beverages are never more than a few steps away so you can swim and sun and enjoy a barefoot lunch or a frosty margarita.
Dining
Start your day with a cup of Margaritaville's signature gourmet coffee and a bite at the Margaritaville Coffee Shop. You can then head to Margaritaville JWB Prime Steak and Seafood, an all-new upscale restaurant concept or enjoy a new concept to Hollywood Beach with its Floridays Café, named after the 1986 album and song by Jimmy Buffett. Margaritaville invites guests to take a bite at the Jimmy Buffett's Margaritaville restaurant, it's fun and has something for everyone.
Raise a Glass
It's a well-known fact that time is irrelevant when you're in a Margaritaville state of mind, which is why they offer 4 unique bars – 5 O'clock Somewhere Bar & Grill, Lone Palm Beach Bar, License to Chill Bar located on the rooftop and the Landshark Bar & Grill. A perfect mix of quality food, free-flowing drinks and good ol' fashioned fun.
The Broadwalk
Bordering the resort's oceanfront recreation area and the beach is The Hollywood Beach Broadwalk, named one of America's Best Beach Boardwalks by Travel + Leisure magazine. The walking and cycling-friendly paved thoroughfare is an ideal venue for rollerblading, running and biking.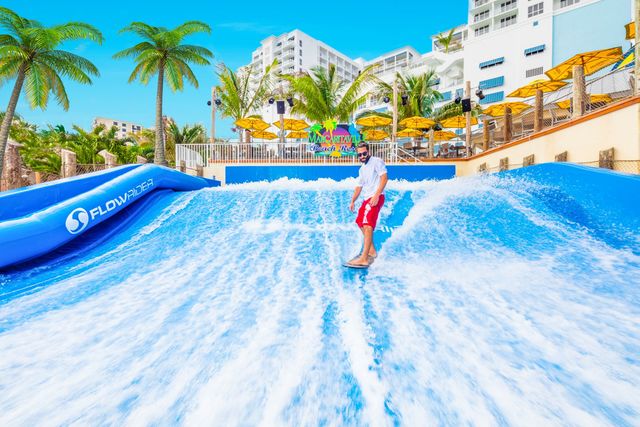 Watersports
Across the street, the 5 o'Clock Somewhere Bar & Grill is where you can pick up a paddleboard and coast along the Intracoastal Waterway. It's a great way to become immersed in the natural environment. Don't miss snorkeling along the seashore, it's a great way to explore South Florida's marine life.
Experiences
Find your next adventure below! This hotel has curated these unique, local experiences for you to enjoy. Reserve your experience now, then complete your hotel reservation!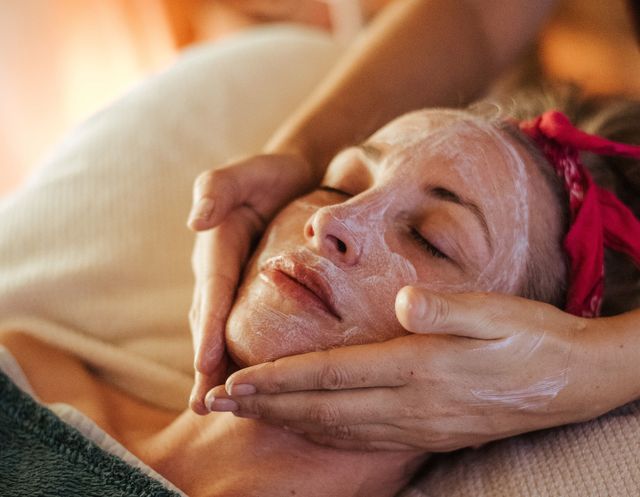 Spa Paradise At St. Somewhere Spa
Beachfront Bliss For Mind, Body, And Soul
More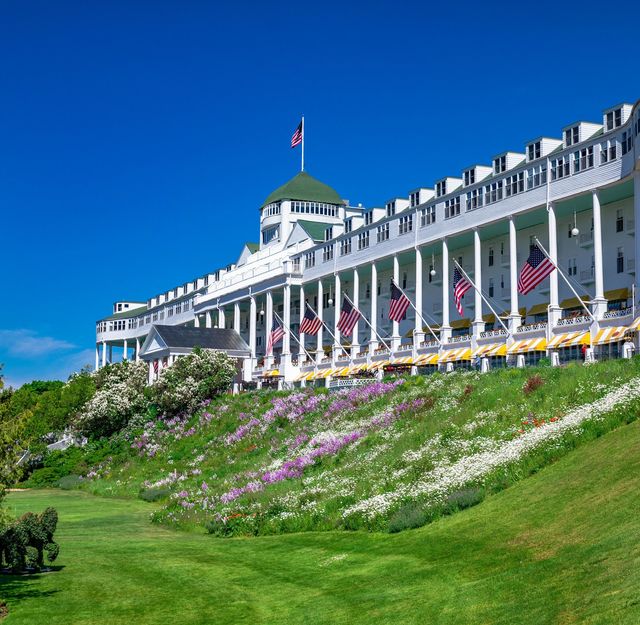 We approach our business with an owner's mentality and financial cunning, yet we embody hospitality with deep reverence to our craft. Boasting some of the most talented and well-respected talent in hospitality, Davidson consistently delivers value to our team members and owners through highly specialized and innovative service.